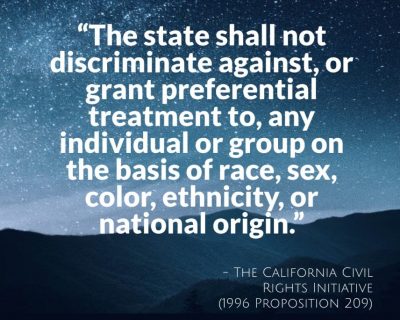 Our Mission
"Equal rights and the supremacy of personal liberties are at the heart of America's founding.
Unfortunately, both of those most basic ideals are being eroded due to a lack of defense by elected officials. "Equal Rights for All PAC" will seek to identify, nurture and contribute to political leaders who support equal rights for all citizens."

Ward Connerly, ERFA President, former CFER President
The Power of

We the People
The "No on Prop 16" campaign in 2020 was a campaign for ALL Californians! (also documented here at https://stopProp16.org)

And it was a battle between:
We the people and special interests.
Truths vs misinformation and lies.
1.6 million dollars vs 30 million dollars.
8000 independent small donors vs 70 mega donors.
Volunteers and civil rights leaders vs paid propaganda machines
Creativity and selflessness vs vandalism

As mentioned by CFER president Ward Connerly and Prof. Gail Heriot, the efforts of volunteers were proven to be very critical to the success of this campaign. We were dwarfed by our opponents in funding by 18 times but we had the most passionate volunteer teams. The opponents has only money, and they did burn the money, but that's all they could do.In contrast, we do not have their luxury of seemingly unlimited money, but we have our devoted volunteers!

This level of devotion from our volunteers could never be bought by money! And this was exactly what our opponents lacked but we had and cherished! If you happen to be one of the devoted volunteers in 2020, thank you!


This new "Equal Rights for All" Political Action Committee is the continuation of that momentum of the grassroots equality movement and see it through that the spirit of Prop 209 be carried out, with the right representatives!

Our Leadership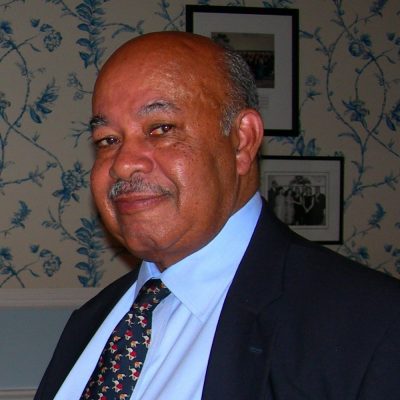 Ward Connerly, President
Ward Connerly is a former University of California Regent. He is also the founder and the chairman of the American Civil Rights Institute (Yes on prop 209 campaign, won in 1996), the president of Californians for Equal Rights (No on Prop 16 campaign, won in 2020), and the founder and the president of Equal Rights for All PAC. Ward is also the author of 2 books: <Creating Equal: My Fight Against Race Preferences>, and <Lessons from My Uncle James: Beyond Skin Color to the Content of Our Character>

Ward can be found at Twitter with @tobeeuqal.
---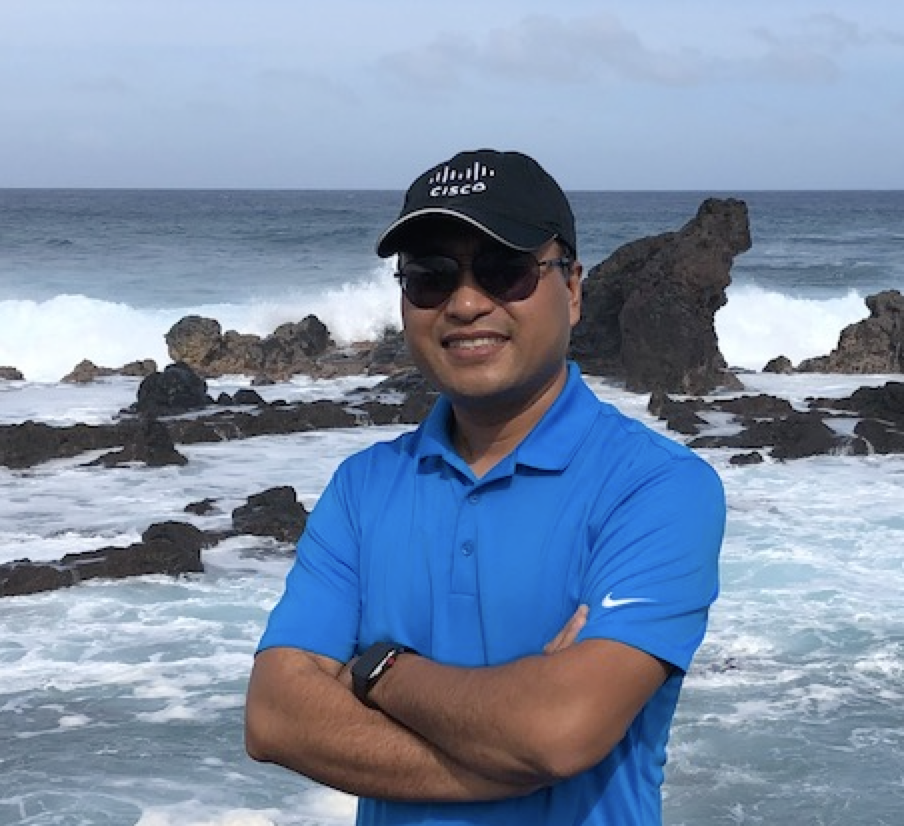 Tony Guan, Vice President

Tony Guan, is the founder of the grassroots volunteering org StopProp16.org. He, together with other core volunteers, started the very first #NoProp16 car rally at Cupertino in July 2020 and made the #NoProp16 car rallies a weekly phenomenon attracting supporters and media coverage on the Prop 16 issue, all the way up to a few days before the election day. He also created and organized numerous functioning volunteer groups during the 2020 "No on Prop 16" campaign, and has been regularly interviewed by the media.

Tony can be found at Twitter with @ECalifornians
---
Eva Zhou, Secretary

Eva's breadth of experience extends across many industries includes fast moving consumer goods, insurance, finance, real estate and international trade. Over the past 3 years, Eva has focused on personal financial planning. Eva was one of the key organizers and the event MC of the Sacramento car rally in the "No on prop 16" campaign. Eva holds Bachelor and MBA degree in marketing.
---
Amy Yuan, Treasurer
Amy Yuan is a conservative who supports equal rights for all. She was one of the key volunteers in "No on prop16 campaign" helping organizing car rallies and yard sign distribution. She is an actuary with 5+ years working experience in one of the prestigious big four accounting firms. Amy holds Bachelor degree in finance and MA degree in economics.
---
Stephen Miller, Assistant Treasurer

Stephen Miller is an entrepreneur, former corporate attorney, and father of two. A graduate with honors from The Law School at the University of Chicago, Steve practiced corporate tax law in southern California before serving as general counsel for a global semiconductor laboratory company and then spending full time as an investor in startup businesses. Stephen was the Orange County director In 2020 "No on Prop 16" campaign.

Stephen can be found at Twitter with @SteveMillerOC
Our Board Members
We have a very dedicated board from the communities across California. We will share their bios when available.
Ronald L. Fong, MD, MPH, MBA

Ron Fong is a family medicine physician. He was a clinical professor in the UC Davis Department of Family Medicine and Director of the UC Davis Family Medicine Residency Network. In these capacities, he has taught and mentored over a thousand family medicine residents and medical students during his 15 years as a faculty member. Dr. Fong volunteered for the No On Prop 16 campaign developing content for social media.

Dr. Fong can be found at Twitter with @edifiquest
---
Aida "Tessie" Crosby, Teacher, Former member of the Santa Clara County Mental Health Board

Aida "Tessie" Crosby was born in Cabimas, Venezuela and attended Nuestra Señora del Rosario College where she obtained a degree in elementary school education. She served a full time mission for the LDS Church, and after moving to the United States in 1988, Aida continued her education at Brigham Young University where she was awarded a B.A in Public Relations. Aida is passionate about combating Socialism and Communism, hoping to educate the next generation on the harmful effects of such oppressive and destructive forms of government. Her career highlights include teaching young children English as a Second Language at Los Alamitos Elementary and helping her community as a former member of the Santa Clara County Mental Health Board, Silicon Valley Food Bank bilingual Outreach Specialist, and as Santa Clara County Court Systems Family First educational consultant. Aside from work, Aida enjoys dancing, painting, and spending time with her husband and three children.